Charge Log
To view the messages that Parallels H-Sphere exchanged with the Credit Card Online Processing Center, select Charge Log in the Reports menu.
Enter Account ID, User name, Plan, Transaction result, Performed on date and run this report.
The retrieved information is organized in the chart with the following columns: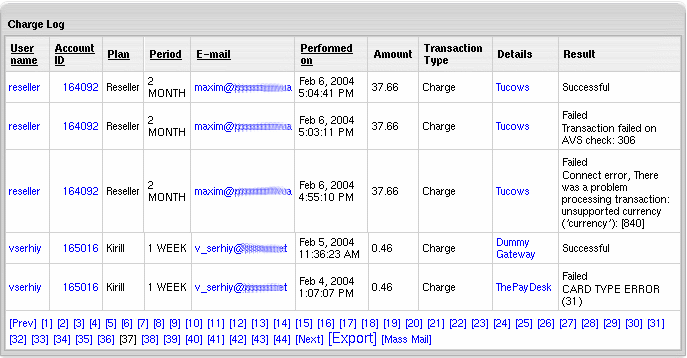 Username: user login. Click the link to view user's contact info.
Account ID: account's system Id.
Plan: account's plan.
Period: account's billing period.
E-mail: account's contact e-mail address.
Performed on: the time and the date when the transaction was executed.
Amount: transaction fee.
Transaction Type:

Charge - pay transaction.
Authorize - request for transaction approval.
Void - canceled authorize transaction.

Details: merchant gateway the transaction was processed by.
Result: transacion confimation / errors for failed transations.