How do I view my billing history?
To learn how much you were accrued and charged, go to Billing -> Online Invoice or Online Sum Invoice. The latter allows you to view invoices for all your billing profiles, in case you use different credit cards or billing info for your checks on the contrary to online invoice which shows invoices only for your active billing profile you currently use: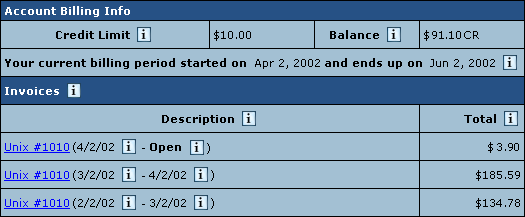 On the Invoice page you can learn you current billing period start and end dates, what your credit limit and current balance are:
Credit Limit restricts your ability to buy new resources in case your credit card fails to be charged or you have run out of your balance money if you pay by check.
Balance shows how much money you have at your disposal. A negative balance shows how much you owe for the services used. This is usually appropriate for users who pay by check and for credit card users whose credit cards failed to be charged.
Description: your current account ID and plan. In brackets you are shown when a billing period was opened and closed.
Total: debit accruals + taxes drawn against your account during the billing period. The amount isn't related to factual charges. And credits are ignored in calculation of Total as well.
For example:
with - $2 opening balance and 10% tax you were accrued $10 setup fee + $1 tax. You then sent $20 check and account was charged $13, the Total will show $11.00 (debit accrual + tax).
* The initial setup fee is put in a separate invoice. To view details of any invoice in the billing history, click its ID link in the Description column. The picture below illustrates details for an invoice consisting of separate bills:
* find explanations below the entries/cells they apply to.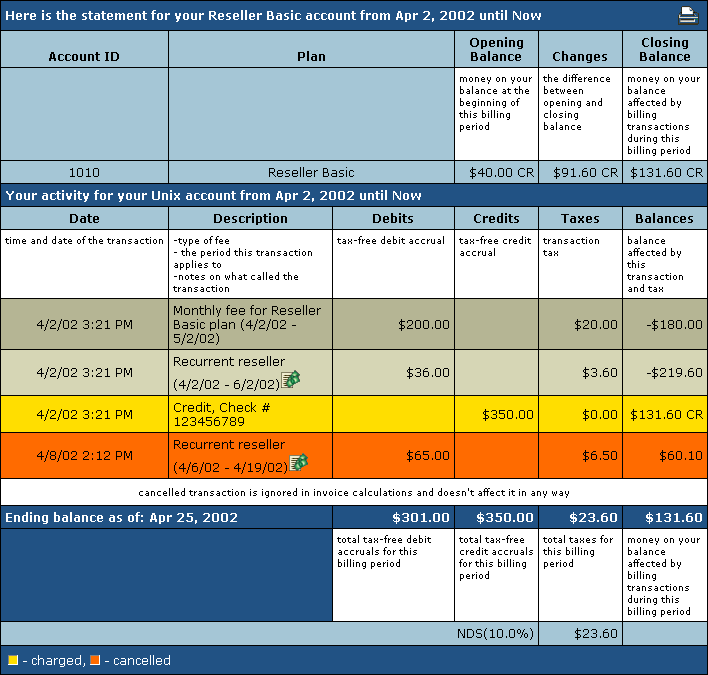 Note: if by the end of the billing period you are accrued the amount which doesn't exceed the credit limit, it isn't charged, but carried over to the next billing period and included into the proceeding charge.
To see what makes your 'end customers' charges or accruals, click the invoice icon in the description entry. This will bring you to the page similar to the one below:

Reseller Amount: the money that you charge or accrued your end users as the fee defined in the Description column.
Description: what you charged your users for.
Amount: the money that you were charged or accrued by your parent host.
Start/End: the dates when end customers' billing periods started and end.
* Click the underlined column headers to sort the entries.
* Under the chart you can find navigation links.