Wholesale Prices vs Retail Prices
There are two pages that tell you what you are going to be charged: Online Price and Reseller Price. Online price tells you what your provider charges you for your reseller account (CP Account), reseller traffic, and summary disk usage. The In Use column shows the summary disk usage limit and summary traffic limit you have set in your reseller control panel. Reseller price tells you the prices you will be charged for the resources purchased and used by your end customers.
To open the Reseller price page, log into your reseller account and go to Billing -> Reseller Price: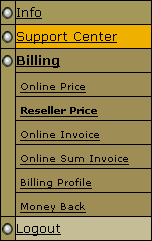 This will bring up a chart with the wholesale fees you will be charged for resources created and used under your end customers' accounts:
Table 1.


Units
Free: the amount of resource units your parent host gives you for free. In other words you can distribute them between your end-customers and not be charged.
E.g.: with 5 free actual accounts you can create one reseller administrative account, one account to host your own site, so called system account, and not pay for it. Besides, you can distribute the rest 3 accounts among your end-customers, either for free or as payable resource. In the latter case all the money you charge your end customers for account creation will make up your net profit, as you are not supposed to pay you parent host anything for them. When you run out of the resources allocated as free, you will have to pay your parent host the fee he set for each new account created by your end-customers.
In Use: the amount of resource units your end users are already using. In case of quota resources such as Disk space Quota, this value shows the total of all end user quotas regardless of actual disk usage.
Max: the amount of resource units you are restricted to distribute at most.
Fees
Setup Fee: the amount of money you are charged single-time by your parent host for creation of each payable resource unit under your end customer accounts.
Recurrent Fee: the amount of money you are regularly charged by your parent host as monthly payment for maintenance of each payable resource unit created under your end-customer account.
Usage Fee: not valid yet, reserved for future implementation.
Refund Percentage: percentage of the recurrent fee to be returned to you in case your end customer decides to quit hosting and get his money back. This sum is adjusted to the time left to the end of the end-customer's billing period and is calculated according to the formula:

money your parent host returns you = setup fee x days left to the end of the billing period x refund percentage / billing period duration in days / 100%.

E.g.: if your customer quits hosting on the 15th day from the beginning of his 30 days billing period, with $7 setup fee and 50% refund, parent host will return you $1,75 (=$7x15x50/30/100).
The example below shows how this works:
You created custom hosting plan "Bronze" and set such prices for the resources included:
Table 2. Prices you set for plan Bronze (retail prices)

free

setup

monthly

usage (extra)

Account

0

$20

$8

N/A

Domain

0

$2

$11

N/A

Webalizer

0

$0

$4

N/A

Summary Traffic

1 GB

N/A

$3

$5
A user comes to your site and signs up for this plan. As soon as he is through with signup procedure with his domain transferred:
You charge your customer (see table 2)

You are charged by your parent host (see table 1)

setup for account creation -

$20

setup for creation of your customer account -

$5

recurrent for account maintenance -

$8

recurrent fee for maintenance of his account -

$7

setup for domain transference -

$2

setup for domain transference -

$2

recurrent for domain maintenance -

$11

recurrent for domain maintenance -

$10

setup for creating Webalizer-

$0

setup for creating Webalizer resource -

$3

recurrent for using Webalizer -

$4

recurrent for using Webalizer -

$1

Then the user buys additional 2 GB of traffic because he doesn't want to pay you for overlimiting $5 for each GB run up on his site.

recurrent for traffic increase

$6

A

if you haven't distributed and run out of 10 GB free traffic you were restricted to by your parent host

$0

B

if you have distributed and run out of 10 GB free traffic you were restricted to by your parent host

$2

Total=

$51

Total=

$28 (A) or $30 (B)
Use the following formula to calculate how much you finally net:

Net money you make = money you charge your customers– money you pay to your parent host.

$51 – $28 = $23 (for A case)
or
$51 – $30 = $21 (for B case)