Disk Usage Report
This feature allows you to retrieve data about disk space consumed by users over a specified period of time. The obtained numbers don't reflect the state for this moment in time. They show disk space usage averaged for the selected time period. To get the latest registered disk usage, limit your search to one day only.
To generate a report, do the following:
Go to the Reports menu in your admin control panel.
Select Disk Usage. The following page will show:
Enter Search Criteria:

Usage Type: overall disk usage or disk space consumed on specific (mail, web, DB) server.
Plan, username, account ID and email are the same as for other reports.

Click Search.
On the page that shows, you can see a list of users, their accounts that match your search criteria, plans they are signed up under, emails and disk usage consumed during the mentioned period.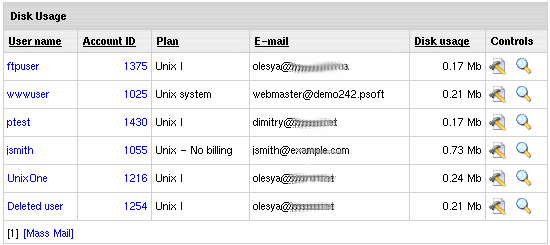 Clicking the Edit icon in the Controls section you are taken to the page from where you can login into selected account.You can also use this feature as a search utility to find account by disk space used for a period of time.
Note: Upon the search results, you can send a mass email to all users displayed in the report. To do this, click the Mass Mail link at the bottom of the report page.