MainStreetSoftWorks Configuration
Preparation
Go to www.mainstreetsoftworks.com/p/17.html page.
Download the following APIs:

www.mainstreetsoftworks.com/freedist/java_mcve-3.2.tar.gz
www.mainstreetsoftworks.com/freedist/libmcve-3.2.2.tar.gz

Place these APIs somewhere on your control panel server.
Log into your control panel server as root user.
Unpack libmcve-3.2.2.tar.gz
Go to the libmcve-3.2.2 and follow the instructions in the INSTALL file.
Unpack java_mcve-3.2.tar.gz
Go to the java_mcve-3.2 and follow the instructions in the INSTALL file.
Restart Parallels H-Sphere.
Make sure that MCVE.jar is in the /hsphere/local/home/cpanel/java_rt/ directory. If not, copy this file from the java_mcve-3.2 directory.
Configuration
Select MainStreetSoftWorks in the Add New Gateway box.
Click the Add button.
Fill out the form that appears: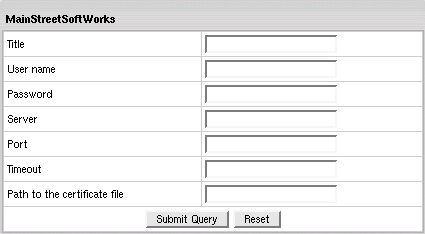 Title: give a name to this MainStreetSoftWorks connection
Username: enter the name given to you by MainStreetSoftWorks provider
Password: the password which comes with login/username
Server: the name of the MainStreetSoftWorks server
Port: the port of the MainStreetSoftWorks server
Timeout: minutes to wait for the server reply before merchantgateway API fails with IOException
Path to the certificate file: on the control panel server, the path to the SSL certificate you received when you signed up with MainStreetSoftWorks
Click Submit Query
CVV (Card Verification Value). To enable fraud protection using CVV, enable and configure CVV support in your MainStreetSoftWorks account. More on CVV credit card verification.